Big Stirling Engine ($399.99)
100 Watts Capability
Worldwide Shipping Express Air Parcel ($99.99)
(Shipping within 20 business days of clear payment)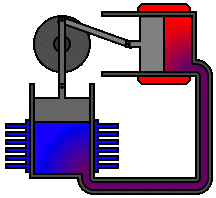 STIRLING CYCLE ENGINE
A Stirling engine is a heat engine operating by cyclic compression and expansion of air or other gas, the working fluid, at different temperature levels such that there is a net conversion of heat energy to mechanical work. Like the steam engine, the Stirling engine is traditionally classified as an external combustion engine, as all heat transfers to and from the working fluid take place through the engine wall.
This contrasts with an internal combustion engine where heat input is by combustion of a fuel within the body of the working fluid. Unlike a steam engine's (or more generally a Rankine cycle engine's) usage of a working fluid in both its liquid and gaseous phases, the Stirling engine encloses a fixed quantity of permanently gaseous fluid such as air. Typical of heat engines, the general cycle consists of compressing cool gas, heating the gas, expanding the hot gas, and finally cooling the gas before repeating the cycle. The efficiency of the process is narrowly restricted by the efficiency of the Carnot cycle, which depends on the temperature difference between the hot and cold reservoir.

Originally conceived in 1816 as an industrial prime mover to rival the steam engine, its practical use was largely confined to low-power domestic applications for over a century. The Stirling engine is noted for its high efficiency compared to steam engines, quiet operation, and the ease with which it can use almost any heat source. This compatibility with alternative and renewable energy sources has become increasingly significant as the price of conventional fuels rises, and also in light of concerns such as peak oil and climate change. This engine is currently exciting interest as the core component of micro combined heat and power (CHP) units, in which it is more efficient and safer than a comparable steam engine.
SPECIFICATIONS:
Hot air compression & Stirling Cycle Engine Design

No electricity required to operate

1 Kg. Gas can run up to 100 Hours

Consumes 5 BTU Flame (5 Candlelight)

Light weight & portable (gas tank, not included)

Can use Natural Gas, CNG, LPG, Propane, Oil

Built-in Natural Gas Jet (Replace jet for LPG)

Built-in Holder for carriage

Turns on with a finger push

No grease or engine oil required

Very minimal use of fire flame

Fly wheel Size = 7" (Seven Inch)

Fly wheel Surface Speed 500m/min (Average)

Speed = 1,000RPM (No Load)

Engine Size = 58cc (

Measurements not Power

)

0.134102209 hp

Discharges hot air

Best for the student experiments, off-grid or remote area Testing

Low Noise

Weight: Approx. 8Kg. (without gas tank)

Dimensions: Height 27" x Width 14" x Length 14"

1-Year Warranty
---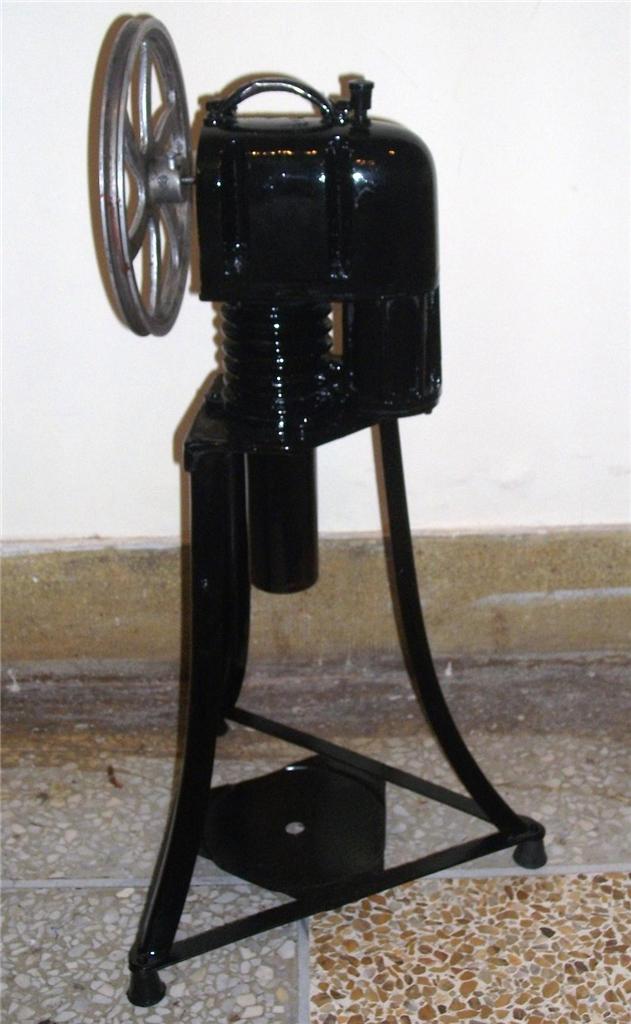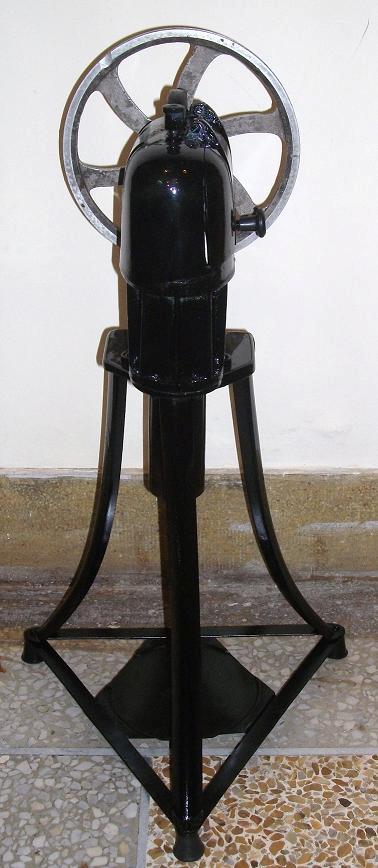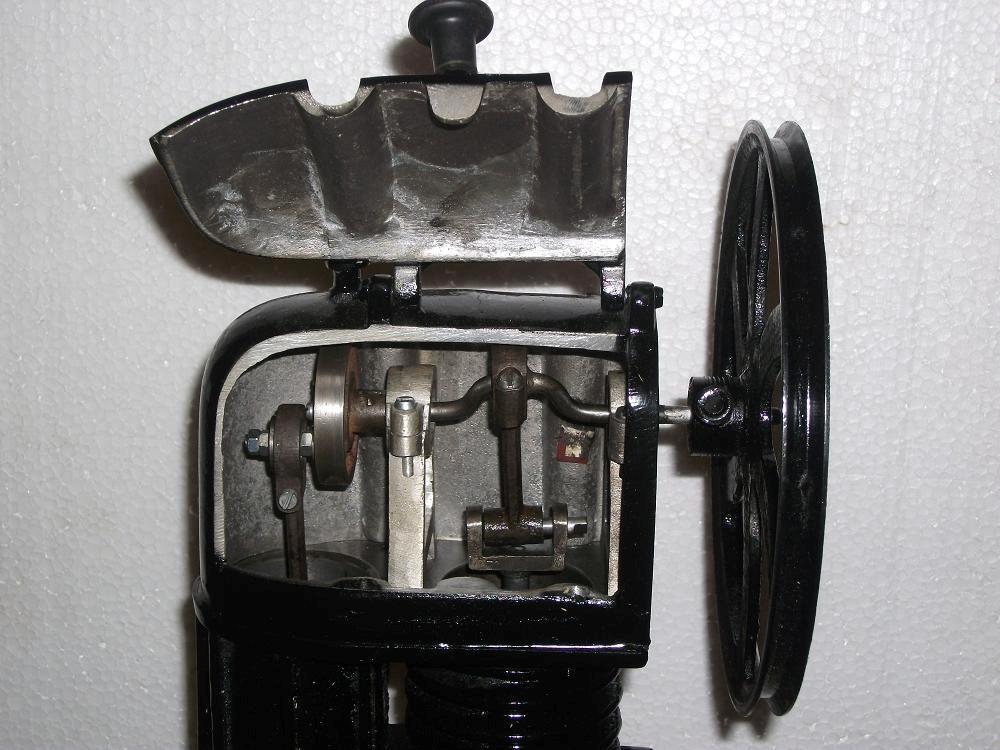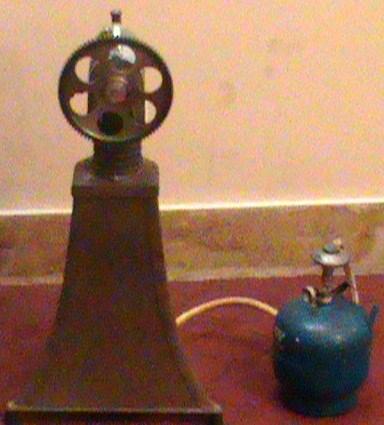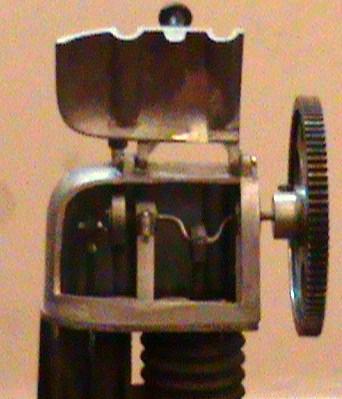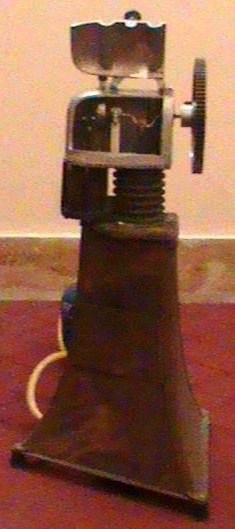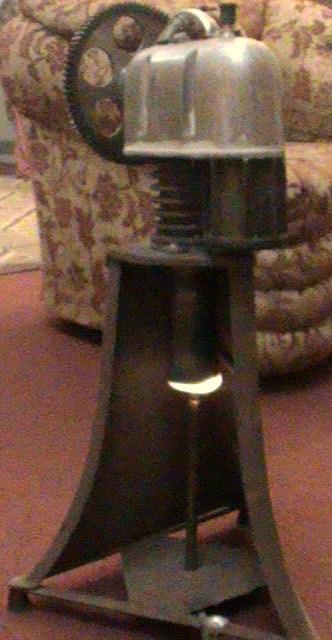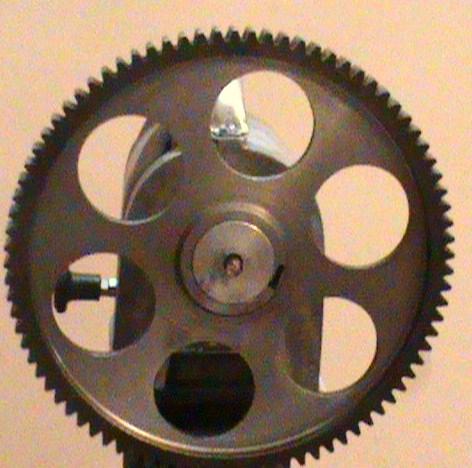 ENGINE USAGE INSTRUCTIONS

1. Engine can run on oil, natural gas, make sure to replace firing jet before using it on LPG (gas tank), LPG jets are available from your local hardware stores.

2. Make sure, your cylinder has a regulator before connecting engine on LPG.

3. Be aware that excessive opening of gas supply may cause serious injuries and burns.

4. When turning "ON" the fire on the bottom of the engine, never increase flame more than a hot water tank pilot or flame equal to a 4 candlelight.

5. After turning "ON" the flame, wait 30 seconds, push flywheel towards right or use a finger push towards right, as shown in the (YouTube) video in our latest eBay listings.

That's it, sit and enjoy the RPM:

Ø Since all of our engines are brand new, factory sealed, please strictly use "White Sewing Machine Oil" only for lubrication (not included) available from your local markets, never ever use any other kind of oils i.e. grease, mobile oil, kerosene oil, mustard oil etc…use only a single drop of white sewing machine oil on the piston and moving rod part of the engine only.

Ø If using indoor, please use an exhaust fan, so you do not inhale any gas fumes, take extra precautions when using inside the house.

Ø If engine is tampered with its seals, or any kind of tool is used on it, that would automatically void your warranty.

Ø Please keep it away from the children's access, its not a toy, playing with a fire-connected device could be very dangerous and health hazard for the minors, infants and animals.

Warranty:

12-months Warranty for defective items (excluding items damaged and/or misused after receipt). Buy with confidence. Defective items MUST BE reported and returned to us within the warranty period (and in the original packaging, if possible). You must include your transaction ID and brief description of the defective problem in your return package. WE DO NOT REPAIR OR REPLACE ITEMS WITH AN EXPIRED WARRANTY.

Return & Refund Policy:

Item shall be returned in the original. unused, undamaged condition. Buyer is responsible for the shipping cost of returning the item. Buyer must ship it back with a traceable tracking number in order to claim a refund, regardless of the buyer's shipping location, US$200 would be deducted for the original item shipping & handling & restocking charges even though if shipping was originally offered free or item is claimed damaged. Return shipping is to be paid by the Buyer.

Shipping & Handling Policy

We try our best for the packaging to safeguard your item to reach its destination. We use air courier service. We do not ship to locations which our postal carrier does not support. Buyer is responsible for the import custom duties, taxes, VAT and/or any import related charges. We only ship to paypal/ebay confirmed shipping addresses.

Note: Engine comes with a standard fly wheel, gear wheel can be ordered separately for additional charges of $99.99 + $49.99 by Air Shipping. Please contact us if you would like to purchase gear wheel after you purchase your engine. Engine frame/appearance may be modified at seller's discretion.
---
Liability and Indemnity Disclaimer:
Seller is offering just the products, all information provided in the listings is based on the actual measurements conducted by professional and experienced mechanical engineers. In no event Seller shall be liable for any damages, including without limitation, direct or indirect, special, incidental, or consequential damages, losses or expenses arising in connection with the use of our products thereof or inability to use by any party, or in connection with any failure of performance, error, omission, interruption, defect, delay in operation or transmission, target testing failure. Buyer agree to defend, indemnify, and hold harmless Seller from and against any claims, actions or demands, including without limitation reasonable legal and accounting fees, alleging or resulting from your use of the materials or your breach of the terms of this Agreement. The sole responsibility for the application of the products contained herein remains with the buyer, including post purchase testing results.
Hyporex Technologies Inc. All rights reserved 2008-2013